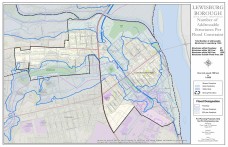 The Lewisburg Borough Flood Impact Task Force was initiated on July 15, 2014 in response to new laws that will affect everyone in the country who lives in an area that is prone to flood (like ours!). The Biggert-Waters Flood Insurance Reform Act of 2012 was passed by Congress to extend the National Flood Insurance Program, but also to require significant reforms and adjustments to flood insurance rates (almost without exception increasing them).  The Homeowner Flood Insurance Affordability Act passed in early 2014 slows the pace at which the new rates take effect, but does not change the long term outlook. These reforms will mean significant increases in flood insurance for all Lewisburg homeowners in the flood plain and likely eventual increases in tax levies for properties within the municipality but not in the flood plain . . . unless we act!
What can we do? Our Task Force is in the process of gathering information that we need in order to apply to FEMA (the Federal Emergency Management Agency) for a possible exemption from or reduction in exposure to the new law and/or for applying for federal money to perform flood mitigation work on properties that would be affected. This was the funding source that paid for the purchase and demolition of the flood-prone houses on South 6th St. here in town over the past year.
To those who say there is no point in this effort, we would like to emphasize the importance of being proactive.  If we do not make the case that one size (national legislation) does not fit all (specifically historic river towns, as opposed to new, perilous, coastal development), no one will make it for us.  In order to clearly put forth the actual local risk levels in contrast to the tables now coming into effect, we must marshall information and apply strategic thinking.
FITF Issue Outline — October 2014 (primary focus topics in bold)
COORDINATION
Funnel input to federal level (FEMA, Marino's office)
Communicate with state (Yaw, Keller)
Work with County
Connect with state agencies (DCED)
Network with other River Towns, Center for Rural PA…
Look for national allies (National Trust for Historic Preservation, Army Corps of Engineers, EPA)
INFORMATION
Finance/banking options
Input from insurers
Historic economic impacts
Detailed economic implications (tax base)
Realty implications
Construction/Mitigation Techniques and Costs (part of a pattern book being created by Lycoming County in collaboration with the Army Corps of Engineers)
International models for resilient cities
Low income impacts
LEGISLATION
Suggestions for 2017 reauthorization of legislation
Consider PennVest-modeled loan program to facilitate mitigation projects (Lycoming County model)
Separate impact levels for low income and/or historic areas
Research local tax multiplier possibilities
PUBLIC OUTREACH
Keep residents informed about submissions, information, events (use Enlightener newsletter)

Home-owners
Multifamily/rental properties
Business owners
Renters
Second homes

Raise awareness of floodplain location and insurance rate impacts
Pool properties for group rates (on Certificates of Elevation)
How to mitigate (being done by Lycoming County, stay tuned)
Template for other locales
Target top 5 topics under awareness
BOROUGH SUPPORT
Community Rating System (CRS) assistance
Elevation application review (not ready! Would it be appropriate to hire regionally, County or COG level, Circuit Rider, Grant funded?)
Make case for pilot study
Certified Floodplain Manager (Curtis Barrick, with Borough Engineer, LDG)
Compile elevation certificate info (for Emergency Management and GIS use)
Key Documents:
Legislative Outreach Topics March 2015
BU summer research preliminary poster