What do you think the best way to combine bikes and art is?
Make art out of bicycle parts, like these fantastic Bike Emoji prints available on Velojoy.com: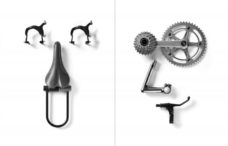 Or make a bike out of art parts? Check out this sketch by Caron and Pomerantz: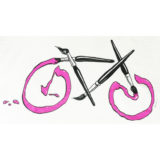 Walk It! Bike It! Lewisburg instead suggests you ride your bike to see art in downtown Lewisburg. Please consider taking advantage of the bike valet service we will once again be offering at the Lewisburg Arts Festival street fair on Saturday, April 29 from 10-5pm. We are working with Earl's Bicycle Store and Mifflinburg Bank and Trust to bring this opportunity to the community. Earl's will provide the bike racks and the downtown Lewisburg branch of Mifflinburg Bank and Trust will provide the location. The River Town Team/Walk It! Bike It! table will be there too.
As anyone who's attended in the past knows, downtown sees a huge influx of people the day of the festival. There is great remote parking set up and shuttles to make it workable, but it may seem ridiculous for locals to drive up to the shuttle location in order to get back to town. (It's also ridiculous to try to park downtown — just say no!) If it's direct enough for you, skip both the traffic and the drive by walking or biking into town instead. If you aren't used to it, please review your route in advance. Choose your Rt 15 crossing with care. And be sure to practice defensive walking or biking.
And people who don't live that close can take advantage of the opportunity, too. Feel free to drive with your bike to a suitable remote parking spot like one of the official Buffalo Valley Rail Trail trailheads (Mifflinburg, Vicksburg, or East Buffalo Township) and then ride in from there. In all cases, be safe, observe the rules of the road and be sure both you and your bike are up to the challenge.
Once you're in town, you can enjoy the street fair unencumbered. Feel free to leave your bike with us.
For more information, contact the LNC office at 570-523-0114 or elmstreet@dejazzd.com.
Activity sponsors: