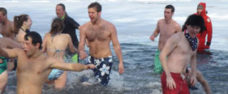 The Heart of Lewisburg Ice Festival is coming up the first weekend in February as usual. And, as usual, the Bucknell Office of Civic Engagement is putting on the Polar Bear Plunge as a fundraiser for the Lewisburg Downtown Partnership. All entry fees for the plungers go to the LDP. In addition, many plungers also raise funds for other causes at the same time, by getting sponsorships. And this year Walk It! Bike It! is again proposing to join in the frigid fun which takes place on Saturday, February 3, at 2pm, at the St George St boat ramp.
Volunteers from Walk It! Bike It! Lewisburg will be participating in the plunge in order to raise money for WIBI Events and Projects. Last year's sacrificial cyclists, Brian Auman and Sam Pearson, will reprise their roles provided we raise at least $500 for our efforts (matching last year's pledge level). So pledge now if you want to see us shiver. Others are welcome to participate in whatever way you see fit, either by signing up to take the plunge with us or by putting up money in support of both this foolhardy stunt and the cause of improving the experience of walking and biking in the Lewisburg area.
Recommended pledge levels are $10, $20 or $50 per plunger. Or name a sum of your own. You can register your support by emailing the amount you wish to pledge to elmstreet@dejazzd.com or calling 570-523-0114. If you want to join in the cold, wet, muddy fun, you can leave a message to that effect as well. You'll also need to sign up to participate through Bucknell but the registration page isn't up yet.
Payment commensurate with the amount of plunging should be received by the Saturday after the event. Donations can be made by check made out to Lewisburg Neighborhoods Corporation with WIBI Plunge in the subject line and mailed to LNC, PO Box 298, Lewisburg, PA 17837. You can make an appointment to drop off cash at the LNC office in the Borough Building. Or PayPal is now an option, too. Just use this PayPal.me/LburgNeighborhoods link — ta da!