We have fielded a number of responses to our Fall In-River Cleanups. They seem to fall into three major categories:
1) Whoa, that's amazing. Way to go! — Thanks, we appreciate your support. Consider participating in this or other River Town Team activities moving forward.
2) Where did they all come from? — People tend to throw tires and other heavy items into the river in order to avoid having to pay for disposal fees. Some have also been used in the past in construction project which may have been blown out by a flood and then they gradually make their way downstream. They were definitely not all dumped either in the vicinity or even recently. We did a similar clean up last year but it had not been done in this area for probably 20 years before that. Sadly, we can expect there to be more again next year, owing both to new dumping and to the way the tires happily cruise along the bottom when the water level is higher.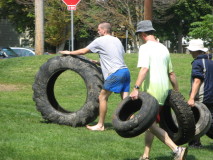 3) Hey, what do you think you're doing? We put those tires in there on purpose! — Thanks for your candor. It's been very enlightening. It is true that several decades ago, there were some programs that involved selectively introducing tires to certain bodies of water in an effort to provide fish habitat. That is no longer considered a best practice. First of all, the official programs used the tires in artificial bodies of water, like ponds or dammed lakes in order to create fish habitat where there was nothing whatsoever on the bottom. The river is full of habitat already. Rocks, logs, root balls. Second of all, the Fish and Boat Commission found there were two major drawbacks to the program even in locations without natural habitat options: on the one hand, they seemed to invite illegal and unwanted dumping under the guise of "helping" to provide additional habitat, and on the other hand, the tires don't tend to stay put, even in fairly still water bodies. And in the river, they are far worse on that count. So, let's hit the reset button and realize that tires do not belong in the river and help to remove them.
4) And how about all the other stuff? Why bother to pull it out? Well, we don't try to pull masonry out. It tends to be fairly inert chemically and it wastes our energy and our funds to collect it and pay to dispose of it. Things that are plastic on the other hand are neither inert, benign or localized. Plastic gradually breaks down, but not into innocent constituents, just into ever smaller bits which make their way downstream to the ocean and also upstream through the food chain, eventually to be consumed by top predators, such as people. Along the way, they soak up toxic chemicals, stuff the guts of seabirds, and torment aquatic animals of all descriptions.
We just did it again on August 26. Water levels were on the high-ish side at just under 2.5′, but the weather was beautiful. We had over 50 volunteers on hand including the entire Bucknell Wrestling Team! We combed the areas along the Lewisburg bank between the islands and up around the mouth of Buffalo Creek. It was really gratifying to see how much less trashy it has become over the four years of conducting these cleanups. In fact, we only pulled out 16 tires this year — bringing the grand total for all four years to 170 tires. (Eek.) At this point, we are planning to change things up for next year and may move our staging area up Buffalo Creek a bit, at least to the Wolfe Field access. Stay tuned and save the date for Saturday, August 25, 2018!
If you'd like to be involved, contact us at elmstreet@dejazzd.com or 570-523-0114. Follow us on facebook at Lewisburg Neighborhoods Corporation and On the River — Lewisburg or Instagram and Twitter at OnTheRiverLburg. Also consider signing up for our email contact list or come on out to our next River Town Team meeting, third Mondays, at 7:30pm at the Barnes & Noble Cafe (check the online calendar to confirm for any given month). Come get involved in our ongoing events/awareness, conservation, connectivity, and planning efforts.