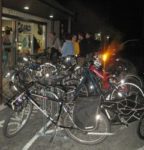 In October, Walk It! Bike It! invited local candidates and voters to gather for a Meet & Greet at Earl's Bicycle Store. We got to hear briefly from the candidates at the event and converse with them one-on-one. We had also asked them three questions in advance and posted their written answers on our website here. Here are the basic questions we have asked the candidates to respond to:
Walk It! Bike It! Lewisburg wants to hear from you! How would you respond to these questions?
How can local students and/or residents benefit from a walkable and bikeable community?
What steps would you take to help develop safe walking and biking routes to the new Lewisburg Area High School?
What other ideas do you have for improving student and/or resident well-being through active transportation?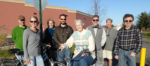 During the event, we also collected questions from attendees. Time and the number of candidates in attendance did not permit us to hear from them on all of them at the time, but we are sharing the submitted comments here to keep everyone appraised of what is on the public's mind. We look forward to working with whichever candidates win today's election.
The voices of the people (positions expressed are those of the people submitting them):
–IS THERE MORE THAT CAN BE DONE TO ENCOURAGE WALKING/BIKING TO LINNTOWN & EICHHORN SCHOOLS?
–STEIN LANE IS POSTED 25 MPH, AND MANY BIKERS AND WALKERS USE THE NARROW SHOULDERS. CAN MORE BE DONE TO MAKE IT SAFER?
–DO PEDESTRIANS HAVE RIGHT OF WAY AT CROSSWALKS, EVEN WITH NO STOP SIGNS? (i.e., Market/Front) IF SO, HOW/WHO DO WE ASK FOR PROPER SIGNAGE? [Editor's note: yes! We are working within the Borough to install additional yield to pedestrian signs.]
—-
–The Daily Item today [October 19] ran a feature that mentioned that Philadelphia was luring Amazon's projected new facility by emphasizing how bikeable & walkable Philly had become – responding to the new generation of workers. What amenities do you foresee will be needed to keep our young & talented and attract new innovative people for the next 10 years?
—-
–Union County
Rail Trail is run by BVRec which is a failed org. Should be a County project. Should have western community participation.
Rail Trail needs extension to Hartleton & New Berlin
Need North South Corridor.
Should do more to prevent sprawl.
–East Buffalo Twp
lack of sidewalks
bad lighting
lack of will to work with Borough
Police do not enforce pro-pedestrian rules of road
density is too low
PennDot is a big problem but twp does not work with HBG to fix
–Lewisburg Borough
no enforcement of sidewalk ordinance, keeping them in good repair
no will to put in sidewalks
Bad lighting, should be dark sky compliant
Penn DOT is a big problem but Borough does not work with HBG to fix
Police do not enforce pro-pedestrian rules of road. Intersections like St. Anthony and 3rd, St. Anthony and Water are dangerous
Does not coordinate with EBT
–School District
New High School has ruined our community
—-
–Signalized crossings for pedestrians are unresponsive … should allow walk at next light change
–Crossings of RT 15 are too dangerous. Walk signals unresponsive and have a walk with a green arrow. Also too short, start flashing almost immediately.
–Stopping for peds in crosswalk never enforced.
—-
–Both Reitz Blvd and Fairground Road between Rt 45 and 192 are definitely NOT friendly for either walkers or bikers. There are no sidewalks. Living in Buffalo Valley Village, I often would like to walk to the library or Farmers Market but am uncomfortable being in the road. I understand how the roads cross townships which makes things more difficult.
—-
–Would you have supported the $250 investment w/[other municipalities] in a grant to map better bikable solutions to our community?
–Do you support increasing funds to BVRA?
–How will you fund bike improvements while reducing taxes?
—-
#1 HEALTH (air, heart, legs, balance // self-awareness)
COMMUNITY (planning, exploring, organizing, maintaining)
FINANCE (savings, creating jobs)
EDUCATION / SENSE-OF-PLACE
ENVIRONMENT (preservation//conservation, admiration, enjoyment, education)
#2 BRAINSTORM // PROPOSAL of trails (community & govt organizations,
collaboration)
BEGIN RAISING $$$
RESERARCH INTO OTHER TOWNSHIPS // PROJECTS (similar)
ZONING CONCERNS // ISSUES (OR BENEFITS!)
#3 FURTHER DEVELOPMENT OF RAIL-TRAIL (LBG & BEYOND!)
BIKE ADVOCACY GROUPS
LESSONS (SAFE RIDING & "FIX-IT") — PUBLICATIONS
AFFORDABLE ACCESSIBLE BIKE EQUIPMENT (LIKE FOOD STAMPS)
FUN EVENTS
—-
They would benefit them by providing a more safe area to allow them to bike or walk in. It's very important to have a safe transportation through town, especially since it's a more healthy way for people and the environment.
I believe that the best steps would be to get the community in on it and discuss ideas about how to make it better. Try to figure out the safest way possible. Continue to speak out about it and study the maps of the town to have ideas of routes and what not.
One idea I have is a bike lane through the main streets of Lewisburg and everywhere else. It might be a tight squeeze but it's something to think about.
—-
Educate people on bike signals, have events like these to show people. Go on group rides to practice. Ex., Slow Roll, Thursday night at 6:00 starting at Mondragon Book Store.