What can you do to help out with neighborhood revitalization in Lewisburg?
Consider participating in our Image Scavenger Contest.  Review our River Town Insider Picture Puzzler document, below, available for download here:  Image Scavenger Contest Page.  Then look for and send in (by email or facebook — find us at Lewisburg Neighborhoods Corporation) your own one image entry (and solution, in case you stump us).  No limit to number of entries.  We will accept entries any time between now and September 1, 2014.  We will select winners to be used in the next Picture Puzzler.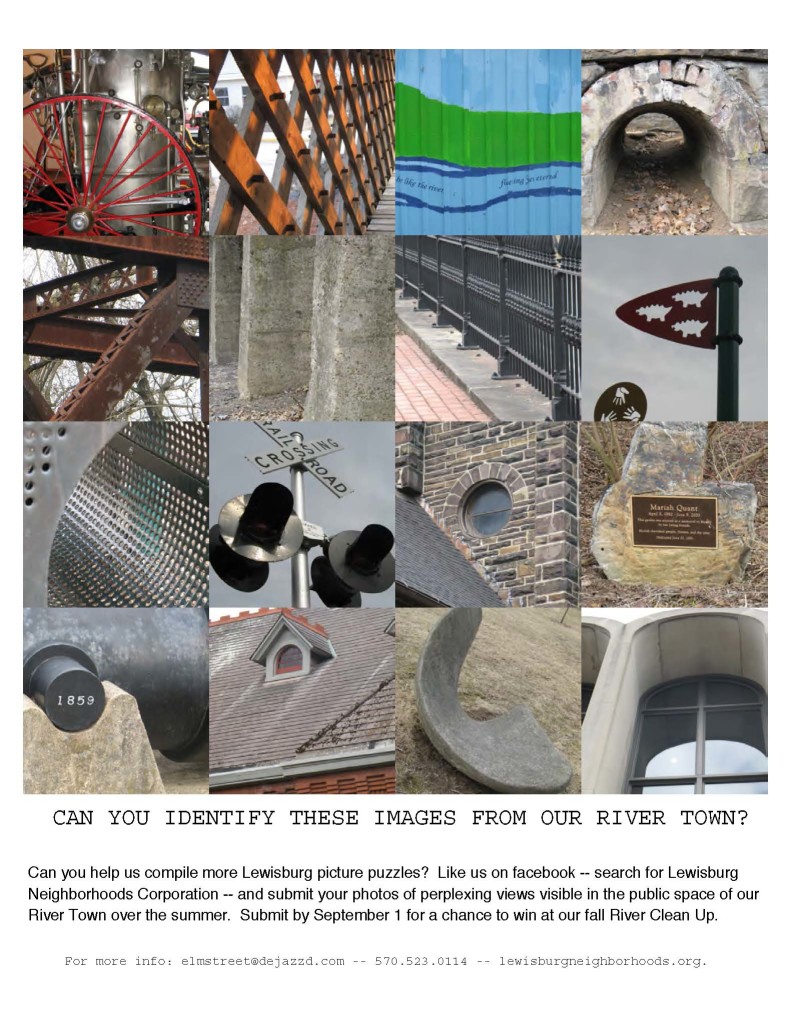 Surely there must be more ways to help.  The real question is what can you do?  There are many ways to be involved.  Volunteers can participate in neighborhood meetings, attend events like the Bull Run Ice Cream Social, help with flyering for events, or create banners for tabling.  Our committees are always looking for people with backgrounds in planning, design, construction, landscape, and marketing, but one doesn't have to be a trained professional to participate by any means.  We ask anyone who is interested to talk to us and see how they can fit in and enhance our team.
Can you staff a table at an event?  Can you bake cookies for a volunteer thank you?  Can you help kids roll woolly worms out of pipe cleaners?  Can you help organize future events?  Can you hunt through photographs at the Historical Society to find treasures relevant to the neighborhood?  Can you sell Hufnagle Park holiday cards?
Let's figure out a way together to promote Lewisburg living and have fun doing it.  Contact the office at 570.523.0114 or elmstreet@dejazzd.com to see how you can help out.