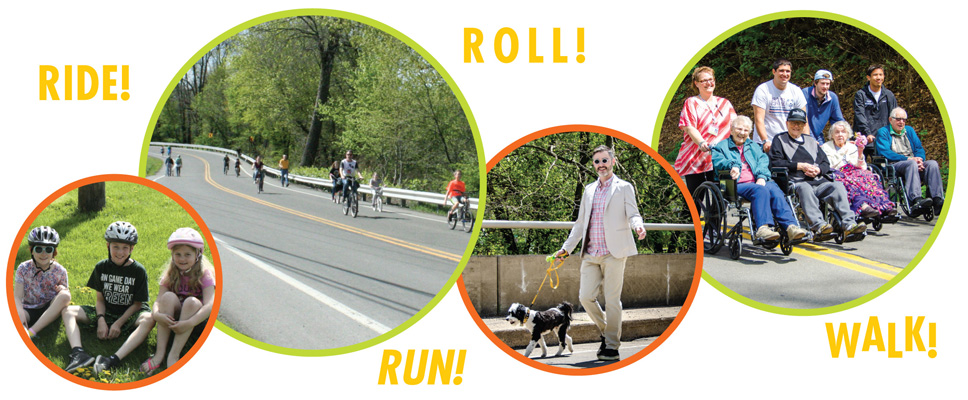 Ever heard of or attended an Open Street event? They are also sometimes called Sunday Streets, or Ciclovia ("Cycle Way" in Spanish), or Road Holidays. The basic idea is that a piece of everyday infrastructure focused on cars, i.e. a street or road, gets temporarily redefined as an exciting public amenity for people-powered activity, in other words, a park or a promenade.
Walk It! Bike It! Lewisburg held one on Sunday, April 23rd, from 1 to 5pm on River Road North, from the Water/St Anthony St intersection to Winter Farm Lane near the main entrance to RiverWoods Retirement Community. And we're doing another one on Sunday, September 17, from 1 to 5pm on River Road South, from the railroad tracks to the north end of Lan Avon Drive. It's a free public event suitable for all ages. Come on out and roll, stroll, jog, or meander along the Susquehanna River.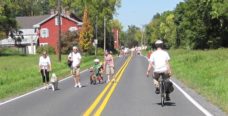 The existing road will be officially closed to vehicular traffic for a few hours and opened instead to bikes, pedestrians, runners, skaters, etc. It's not really a street festival and more of an outdoor activity, like a temporary rail trail. Similar events have taken place regularly for decades in various parts of the country and the world, but the idea has been expanding in less populated areas in the past ten years, often sponsored by health care providers working to promote physical activity.
Locally, this type of event had been held several times in the year before the Buffalo Valley Rail Trail opened and Walk It! Bike It! Lewisburg is bringing it back again this spring. Previously it had been hosted on River Road south of town. In the spring we did it north of town instead in part because it was better connected to downtown. Because that section of road is a state road, the process was very involved, requiring a Special Occupancy Permit application be submitted to PennDOT. The fall event returns to the local road south of town thanks to the gracious cooperation of the municpalities and adjacent landowners.
The day of, weather permitting, everyone is invited to come on down and enjoy the waterfront road as it stretches from the Borough south into East Buffalo Township.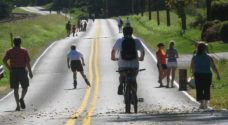 As part of the fall event, we have arranged for Bob Swaim, aka The Bikeman, to be on hand with a selection of his large collection of unique bikes. They will be displayed and demo'ed from 2 to 4 along the road. (In the event of real rain, just this portion of the event will be held instead at Burkholder's Gym at 3296 New Berlin Mountain Rd.)
Tune in to WKOK 1070am and/or check On the River – Lewisburg on facebook the morning of in the event of inclement weather.
Parking will be available for those approaching from the north on street in the Borough and in the staff parking space at the southeast end of the Bucknell lot along Gateway Drive between Brown Street and Loomis/University. For those arriving from the south, there is space in the Glenpool Club parking lot. And of course people can walk and bike there from either direction as well. Restrooms will be available in Tustin on the Bucknell campus at the northern end of the site.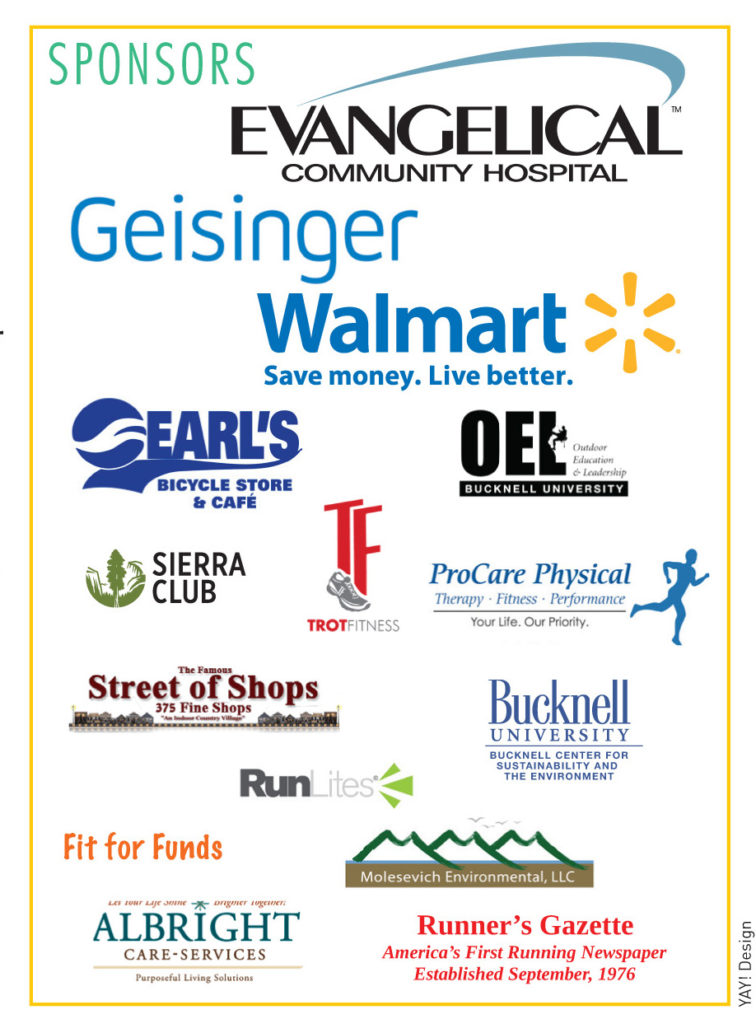 We hope to see you there. If you'd like to do more than just show up and enjoy the afternoon, we have plenty of opportunities for volunteers to help out. You can greet people at the entries, take pictures, help push people in wheelchairs, or staff the first aid table. Shifts run from 1 to 3 and 3 to 5.
Our primary event sponsors include Evangelical Community Hospital, Walmart Store 1644, Geisinger, and Earl's Bicycle Store, and Bucknell Outdoor Education and Leadership. Our supporting sponsors include the Bucknell University Center for Sustainability and the Environment, the Otzinachson Group of the Sierra Club, Runners' Gazette, Molesevich Environmental, Trot Fitness, ProCare Physical Therapy, RunLites, Albright Care Services, Team Taper Racing, and Street of Shops. Our in-kind support is coming from Fit for Funds and the Bucknell University Wrestling Team. Please thank our sponsors for helping to make this event possible.